BRACES & RETAINER
CARE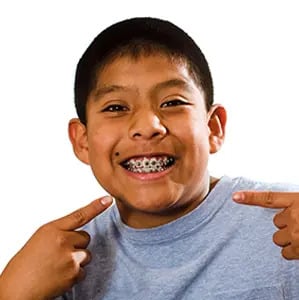 BRUSHING
Using a soft bristled toothbrush begin by brushing the outside of your teeth and braces holding the brush tilted at a 45 degree angle. Brush along the top and bottom of the braces using light to moderate pressure, making sure you cover every surface very carefully. Don't forget to brush the teeth all the way in the back and behind your back molars. It's a good practice to brush for three minutes at least twice a day. Using a timer or singing along to a song will help you keep track of your time.
FLOSSING
Flossing at least once a day is very important for good dental hygiene and to keep your teeth healthy. Flossing with braces may seem difficult at first. To floss properly, you will need to thread the floss under the archwire. This can be done in two ways – either by threading the floss through on your own or using a floss threader to thread the floss under the wire.
Retainer Instructions
Retainers are breakable, so treat them with care. Clean clear retainers thoroughly once a day with a toothbrush and liquid soap. Use warm but not hot water. Brushing retainers removes the plaque, and eliminates odors. When retainers are not in your mouth they should ALWAYS be in a retainer case. Keep retainers away from hot water, hot car dashboards, pockets, the washing machine, and napkins. Keep retainers away from pets!
×
Schedule an appointment now