Ask ROG: When should my child first see an orthodontist? With Dr. Denny.
Posted on September 13, 2021
If you are wondering when should my child first see an orthodontist? When it comes to smiles, 7 is the lucky number. The American Association of Orthodontists recommends all kiddos see an orthodontist when they turn 7. While 95% of ROG's patients do not need orthodontic treatment at that time, the idea is to begin orthodontic monitoring in the middle of childhood when jawbones are still at their most malleable. It can forestall serious problems in the future and make corrective treatment down the road simpler and quicker.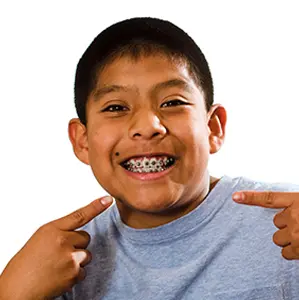 By seeing an orthodontist while their mouth is still growing, the doctor can more easily intercept potential problems such as narrow jaws, which can lead to crowding, overlapping and crooked teeth; and bad bites, medically known as malocclusions, and include underbites, overbites, open bites, and crossbites. Some of these problems can start being corrected with appliances early and others result from bad habits, including thumb-sucking and tongue pushing, that we can nip in the bud.
Like with every initial consultation at ROG, your child's first visit is complimentary. All consultations include a digital x-ray along with an initial exam so the doctor can determine if there are any issues and if any orthodontic actions need to be taken at the time. While adults are increasingly seeking orthodontic treatment and can achieve great results, when a patient starts treatment at a very young age, orthodontics can often achieve results more efficiently and for less money. Contact the professionals at the ROG Orthodontics if your child is ready to see an orthodontist.