Ask ROG: Am I too old for braces? With Dr. Nat
Posted on September 13, 2021
Ask ROG: Am I too old for braces? With Dr. Nat. Patients call Dr. Natalie Parisi "Dr. Nat" because "Dr. Parisi" referred to her father and ROG co-founder, Dr. Vincent Parisi!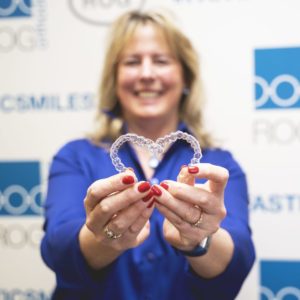 A funny question we get all the time is "Am I too old for orthodontics?" and the answer is absolutely not. There's a misconception that as we age our teeth don't move as well, and that's just not true. At ROG Orthodontics we treat patients from age 4 to age 86. I even treated my mother at age 80 with braces. Just remember that at ROG your initial evaluation which includes your x-rays and your photos is free of charge. In today's world, there's so many aesthetic orthodontic options available for adults. Come in, visit us and we will let you know what those options are for you.
True or False: Your teeth won't move as well when you're older.
Answer: False. At ROG, we see patients as young as 4 and as old as 86. Which, means you're never too old to get a great smile. So, book your free orthodontic consultation today to get the smile you deserve. Your complimentary initial consultation will give you the opportunity to meet our doctors and team, learn more about orthodontics, receive a complete initial exam, and find out which treatment options will best meet your needs.